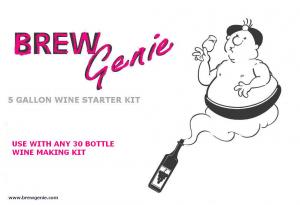 BrewGenie Brewery
---
This is a complete starter kit for making beer. Being boxed it makes a great present for the beer lover and will provide all the equipment needed, including the beer kit, to produce your first 40 pints!
Available with several beer kit styles the BrewGenie Brewery contains:

30 litre brewing bin,
Lid and grommet,
Bubbler airlock,
Plastic mixing spoon,
Syphon kit,
Tub of sterilizer,
5 gallon beer barrel complete with S30 gas injector cap,
Youngs Harvest 40 pint beer kit with instructions.


Description
Price (£)
QTY

Best Bitter Brewery

This is a complete starter kit for making beer. Being boxed it makes a great present for the beer lover and will provide all the equipment needed, including the beer kit, to produce your first 40 pints! Available with several beer kit styles the BrewGenie Brewery contains: 30 litre brewing bin, Lid and grommet, Bubbler airlock, Plastic mixing spoon, Syphon kit, Tub of sterilizer, 5 gallon beer barrel complete with S30 gas injector cap, Best Bitter beer kit with instructions.

Price (£)
QTY

Best Bitter Brewery

This is a complete starter kit for making beer. Being boxed it makes a great present for the beer lover and will provide all the equipment needed, including the beer kit, to produce your first 40 pints! Available with several beer kit styles the BrewGenie Brewery contains: 30 litre brewing bin, Lid and grommet, Bubbler airlock, Plastic mixing spoon, Syphon kit, Tub of sterilizer, 5 gallon beer barrel complete with S30 gas injector cap, Best Bitter beer kit with instructions.

£62.00

Add to Basket
Add to Basket

---

Lager Brewery

This is a complete starter kit for making beer. Being boxed it makes a great present for the beer lover and will provide all the equipment needed, including the beer kit, to produce your first 40 pints! Available with several beer kit styles the BrewGenie Brewery contains: 30 litre brewing bin, Lid and grommet, Bubbler airlock, Plastic mixing spoon, Syphon kit, Tub of sterilizer, 5 gallon beer barrel complete with S30 gas injector cap, Lager 40 pint kit with instructions.

Price (£)
QTY

Lager Brewery

This is a complete starter kit for making beer. Being boxed it makes a great present for the beer lover and will provide all the equipment needed, including the beer kit, to produce your first 40 pints! Available with several beer kit styles the BrewGenie Brewery contains: 30 litre brewing bin, Lid and grommet, Bubbler airlock, Plastic mixing spoon, Syphon kit, Tub of sterilizer, 5 gallon beer barrel complete with S30 gas injector cap, Lager 40 pint kit with instructions.

£62.00

Add to Basket
Add to Basket

---

Scottish Heavy Brewery

This is a complete starter kit for making beer. Being boxed it makes a great present for the beer lover and will provide all the equipment needed, including the beer kit, to produce your first 40 pints! Available with several beer kit styles the BrewGenie Brewery contains: 30 litre brewing bin, Lid and grommet, Bubbler airlock, Plastic mixing spoon, Syphon kit, Tub of sterilizer, 5 gallon beer barrel complete with S30 gas injector cap, Scottish Heavy 40 pint kit with instructions.

Price (£)
QTY

Scottish Heavy Brewery

This is a complete starter kit for making beer. Being boxed it makes a great present for the beer lover and will provide all the equipment needed, including the beer kit, to produce your first 40 pints! Available with several beer kit styles the BrewGenie Brewery contains: 30 litre brewing bin, Lid and grommet, Bubbler airlock, Plastic mixing spoon, Syphon kit, Tub of sterilizer, 5 gallon beer barrel complete with S30 gas injector cap, Scottish Heavy 40 pint kit with instructions.

£62.00

Add to Basket
Add to Basket

---

Yorkshire Bitter Brewery

This is a complete starter kit for making beer. Being boxed it makes a great present for the beer lover and will provide all the equipment needed, including the beer kit, to produce your first 40 pints! Available with several beer kit styles the BrewGenie Brewery contains: 30 litre brewing bin, Lid and grommet, Bubbler airlock, Plastic mixing spoon, Syphon kit, Tub of sterilizer, 5 gallon beer barrel complete with S30 gas injector cap, Yorkshire Bitter 40 pint kit with instructions.

Price (£)
QTY

Yorkshire Bitter Brewery

This is a complete starter kit for making beer. Being boxed it makes a great present for the beer lover and will provide all the equipment needed, including the beer kit, to produce your first 40 pints! Available with several beer kit styles the BrewGenie Brewery contains: 30 litre brewing bin, Lid and grommet, Bubbler airlock, Plastic mixing spoon, Syphon kit, Tub of sterilizer, 5 gallon beer barrel complete with S30 gas injector cap, Yorkshire Bitter 40 pint kit with instructions.

£62.00

Add to Basket
Add to Basket

---

Mild Brewery

This is a complete starter kit for making beer. Being boxed it makes a great present for the beer lover and will provide all the equipment needed, including the beer kit, to produce your first 40 pints! Available with several beer kit styles the BrewGenie Brewery contains: 30 litre brewing bin, Lid and grommet, Bubbler airlock, Plastic mixing spoon, Syphon kit, Tub of sterilizer, 5 gallon beer barrel complete with S30 gas injector cap, Mild 40 pint kit with instructions.

Price (£)
QTY

Mild Brewery

This is a complete starter kit for making beer. Being boxed it makes a great present for the beer lover and will provide all the equipment needed, including the beer kit, to produce your first 40 pints! Available with several beer kit styles the BrewGenie Brewery contains: 30 litre brewing bin, Lid and grommet, Bubbler airlock, Plastic mixing spoon, Syphon kit, Tub of sterilizer, 5 gallon beer barrel complete with S30 gas injector cap, Mild 40 pint kit with instructions.

£62.00

Add to Basket
Add to Basket

---

Pilsner Brewery

This is a complete starter kit for making beer. Being boxed it makes a great present for the beer lover and will provide all the equipment needed, including the beer kit, to produce your first 40 pints! Available with several beer kit styles the BrewGenie Brewery contains: 30 litre brewing bin, Lid and grommet, Bubbler airlock, Plastic mixing spoon, Syphon kit, Tub of sterilizer, 5 gallon beer barrel complete with S30 gas injector cap, Pilsner 40 pint kit with instructions.

Price (£)
QTY

Pilsner Brewery

This is a complete starter kit for making beer. Being boxed it makes a great present for the beer lover and will provide all the equipment needed, including the beer kit, to produce your first 40 pints! Available with several beer kit styles the BrewGenie Brewery contains: 30 litre brewing bin, Lid and grommet, Bubbler airlock, Plastic mixing spoon, Syphon kit, Tub of sterilizer, 5 gallon beer barrel complete with S30 gas injector cap, Pilsner 40 pint kit with instructions.

£62.00

Add to Basket
Add to Basket

---

St Peters Ruby Red Brewery

This is a complete starter kit for making beer. Being boxed it makes a great present for the beer lover and will provide all the equipment needed, including the beer kit, to produce your first 40 pints! Available with several beer kit styles the BrewGenie Brewery contains: 30 litre brewing bin, Lid and grommet, Bubbler airlock, Plastic mixing spoon, Syphon kit, Tub of sterilizer, 5 gallon beer barrel complete with S30 gas injector cap, St Peters Brewery Ruby Red 40 pint kit with instructions.

Price (£)
QTY

St Peters Ruby Red Brewery

This is a complete starter kit for making beer. Being boxed it makes a great present for the beer lover and will provide all the equipment needed, including the beer kit, to produce your first 40 pints! Available with several beer kit styles the BrewGenie Brewery contains: 30 litre brewing bin, Lid and grommet, Bubbler airlock, Plastic mixing spoon, Syphon kit, Tub of sterilizer, 5 gallon beer barrel complete with S30 gas injector cap, St Peters Brewery Ruby Red 40 pint kit with instructions.

£72.00

Add to Basket
Add to Basket

---

Custom Brewery

This option is just the equipment part of the BrewGenie Brewery. This allows you to select any beer kit from our store to add to your starter. Just remember to add whichever beer kit you want to the basket. The BrewGenie Brewery contains: 30 litre brewing bin, Lid and grommet, Bubbler airlock, Plastic mixing spoon, Syphon kit, Tub of sterilizer, 5 gallon beer barrel complete with S30 gas injector cap,

Price (£)
QTY

Custom Brewery

This option is just the equipment part of the BrewGenie Brewery. This allows you to select any beer kit from our store to add to your starter. Just remember to add whichever beer kit you want to the basket. The BrewGenie Brewery contains: 30 litre brewing bin, Lid and grommet, Bubbler airlock, Plastic mixing spoon, Syphon kit, Tub of sterilizer, 5 gallon beer barrel complete with S30 gas injector cap,

£52.00

Add to Basket
Add to Basket

---