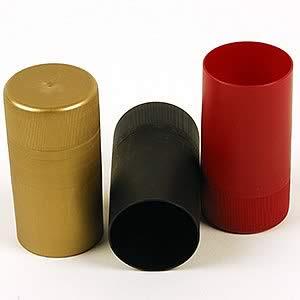 Novatwist wine bottle screw-caps Trade Pack of 1000
---
We are now able to supply these popular caps to other Home Brew Suppliers. To purchase you must be a bona fide bricks and mortar retailer (thats a retailer of home brew products not bricks and mortar). The prices shown do include VAT at 20% (you will receive an invoice for £82.50 per 1000 + 20% VAT).

Novatwist caps are designed to make sealing screw-top wine bottles so easy and safe. Whether it is commercial or home made wine.these caps will keep the wine fresh and secure in the bottle without the need for any tools or corkers. The bottles can be stood upright or laid on their sides.

They are so easy to fit. Simply press down onto the bottle until you hear a click, then tighten to seal. If you are re-using screw cap wine bottles first take of the security tag ring from the neck of the bottle. These caps won't work otherwise. The bottles need to have a 30mm o/d screw with at least 2 rows of pitch to the thread. The cap incorprates a tamper-evident shroud which breaks easily when the bottle is opened.

We currently have a large choice of 9 attractive colours so you will be able to colour code your wines in the rack.
Description
Price (£)
QTY

Burgundy Red

A case of 1000 Burgundy Red Novatwist caps

Price (£)
QTY

Burgundy Red

A case of 1000 Burgundy Red Novatwist caps

£95.00

Add to Basket
Add to Basket

---

Bright Red

A Case of 1000 Bright Red Novatwist caps

Price (£)
QTY

Bright Red

A Case of 1000 Bright Red Novatwist caps

£95.00

Add to Basket
Add to Basket

---

Gold

A case of 1000 Gold Novatwist caps

Price (£)
QTY

Gold

A case of 1000 Gold Novatwist caps

£95.00

Add to Basket
Add to Basket

---

Silver

Case of 1000 Silver Novatwist caps

Price (£)
QTY

Silver

Case of 1000 Silver Novatwist caps

£95.00

Add to Basket
Add to Basket

---

Green

A Case of 1000 Green Novatwist caps

Price (£)
QTY

Green

A Case of 1000 Green Novatwist caps

£95.00

Add to Basket
Add to Basket

---

Sunshine Yellow

Case of 1000 Sunshine Yellow Novatwist caps

Price (£)
QTY

Sunshine Yellow

Case of 1000 Sunshine Yellow Novatwist caps

£95.00

Add to Basket
Add to Basket

---

Warm Ivory

A Case of 1000 Warm Ivory Novatwist caps

Price (£)
QTY

Warm Ivory

A Case of 1000 Warm Ivory Novatwist caps

£95.00

Add to Basket
Add to Basket

---

Electric Blue

.A Case of 1000 Electric Blue Novatwist caps

Price (£)
QTY

Electric Blue

.A Case of 1000 Electric Blue Novatwist caps

£95.00

Add to Basket
Add to Basket

---

Black

A Case of 1000 Black Novatwist caps

Price (£)
QTY

Black

A Case of 1000 Black Novatwist caps

£95.00

Add to Basket
Add to Basket

---