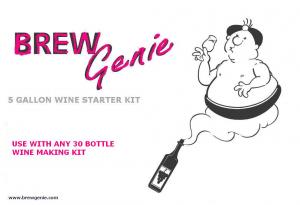 30 bottle wine Starter Kit
---
This starter kit is designed to give you all the equipment you need to produce 30 bottles or 5 gallons of wine. Just add any 5 gallon wine kit from our vast range to use with this set.
It all comes boxed so it can be given as a gift.
There are several levels of kit to enable you to tailor the equipment to your individual requirements. Please click on products available to see the different levels.
Description
Price (£)
QTY

B. Standard Wine Starter

This starter kit gives you everything you need to produce a 5 gallon batch of wine from any 5 gallon wine kit. It contains: 2 Fermenting Bins with snap-on lids. 2 Grommets and Bubbler Airlocks. Syphon kit Hydrometer Thermometer Steriliser. 30 Plastic wine bottle stoppers (re-usable) Once the wine is made you will need to either bottle it or use a wine storage box. For the better quality kits it is best to bottle but wine kits which are made to be consumed within 3 months can be kept in a wine storage box where it can be dispensed from directly into the glass.

Price (£)
QTY

B. Standard Wine Starter

This starter kit gives you everything you need to produce a 5 gallon batch of wine from any 5 gallon wine kit. It contains: 2 Fermenting Bins with snap-on lids. 2 Grommets and Bubbler Airlocks. Syphon kit Hydrometer Thermometer Steriliser. 30 Plastic wine bottle stoppers (re-usable) Once the wine is made you will need to either bottle it or use a wine storage box. For the better quality kits it is best to bottle but wine kits which are made to be consumed within 3 months can be kept in a wine storage box where it can be dispensed from directly into the glass.

£38.99

Add to Basket
Add to Basket

---

C De-luxe Wine Starter

This starter kit gives you everything you need to produce a 5 gallon batch of wine from any 5 gallon wine kit. It contains: 2 30 litre Fermenting bins with snap-on lids 2 Grommets and Bubbler Airlocks Syphon kit Hydrometer Thermometer Steriliser 2-lever Corker 30 Wine Corks 30 Shrink-on bottle caps 30 Wine Labels.

Price (£)
QTY

C De-luxe Wine Starter

This starter kit gives you everything you need to produce a 5 gallon batch of wine from any 5 gallon wine kit. It contains: 2 30 litre Fermenting bins with snap-on lids 2 Grommets and Bubbler Airlocks Syphon kit Hydrometer Thermometer Steriliser 2-lever Corker 30 Wine Corks 30 Shrink-on bottle caps 30 Wine Labels.

£49.99

Add to Basket
Add to Basket

---