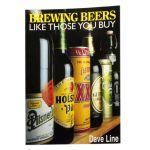 Brewing Beers Like Those You Buy
---
Quite simply, this book tells you how to brew beers like those you buy.
Real draught ale, bottled and keg beers, lagers and stouts are included in the 107 recipes collected from around the world. Home brewing is now a competent hobby backed by a mature industry that provides all the necessary ingredients as used by the commercial brewers. With the information contained in this fully revised and updated book you will be able to successfully emulate your favourite commercial brew for a fraction of the pub price.
Bishops Tipple, Old peculier, Wee Willie, Tiger Lager, Lion Ale are just a few of the recipes included and as some have been adapted from information given by the breweries themselves about their particular beers first-class results are virtually assured.
With complete instructions for beginners, you will soon get to know your Fuggles from your Bullions and be 'sparging your wort' in no time at all.

Description
Price (£)
QTY

Brewing Beers Like Those You Buy

Quite simply, this book tells you how to brew beers like those you buy. Real draught ale, bottled and keg beers, lagers and stouts are included in the 107 recipes collected from around the world. Home brewing is now a competent hobby backed by a mature industry that provides all the necessary ingredients as used by the commercial brewers. With the information contained in this fully revised and updated book you will be able to successfully emulate your favourite commercial brew for a fraction of the pub price. Bishops Tipple, Old peculier, Wee Willie, Tiger Lager, Lion Ale are just a few of the recipes included and as some have been adapted from information given by the breweries themselves about their particular beers first-class results are virtually assured. With complete instructions for beginners, you will soon get to know your Fuggles from your Bullions and be 'sparging your wort' in no time at all.

Price (£)
QTY

Brewing Beers Like Those You Buy

Quite simply, this book tells you how to brew beers like those you buy. Real draught ale, bottled and keg beers, lagers and stouts are included in the 107 recipes collected from around the world. Home brewing is now a competent hobby backed by a mature industry that provides all the necessary ingredients as used by the commercial brewers. With the information contained in this fully revised and updated book you will be able to successfully emulate your favourite commercial brew for a fraction of the pub price. Bishops Tipple, Old peculier, Wee Willie, Tiger Lager, Lion Ale are just a few of the recipes included and as some have been adapted from information given by the breweries themselves about their particular beers first-class results are virtually assured. With complete instructions for beginners, you will soon get to know your Fuggles from your Bullions and be 'sparging your wort' in no time at all.

£6.95

Add to Basket
Add to Basket

---