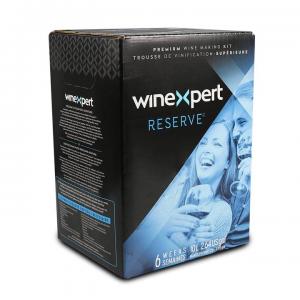 Winexpert Reserve
---
As a result of a much more efficient process of concentation of the varietal grapejuices Winexpert has been able to greatly reduce the volume of juice in their kits. This means that this range of wine kits contains 10 litres of juice but they are an exact equivalent of the previous 16 litre Selection and Atmosphere ranges. This Reserve range contains many of the old favourites but introduces also some new and exciting varietals.


Reserve
PREMIUM WINE MAKING KIT
6 WEEKS
10 L of concentrated juice makes 23 litres / 30 bottles of wine.
MAKES 23 L | 6 US gal
PREMIUM STYLES. OUTSTANDING WINE.
Looking for a premium wine with exceptional body, flavour and aroma from the world's most sought after grape growing countries.
Join the celebration and experience the satisfaction of crafting outstanding premium wines with wow factor - from a supple, buttery Chardonnay to a confident, full bodied Cabernet Sauvignon - the world is at your doorstep.
From this box to your bottle in just 6 weeks.
Description
Price (£)
QTY

Australian Chardonnay

Ripe pineapple, mango and vanilla with creamy texture Alcohol: 13%

Price (£)
QTY

Australian Chardonnay

Ripe pineapple, mango and vanilla with creamy texture Alcohol: 13%

£79.95

Add to Basket
Add to Basket

---

California Riesling

Nice and refreshing with white peach, pineapple and mouth-watering acidity Alcohol: 12.5%

Price (£)
QTY

California Riesling

Nice and refreshing with white peach, pineapple and mouth-watering acidity Alcohol: 12.5%

£79.95

Add to Basket
Add to Basket

---

California Sauvignon Blanc

Gooseberry, lime and tropical fruit make this a bold Sauvignon Blanc. Alcohol: 13%

Price (£)
QTY

California Sauvignon Blanc

Gooseberry, lime and tropical fruit make this a bold Sauvignon Blanc. Alcohol: 13%

£79.95

Add to Basket
Add to Basket

---

Italian Pinot Grigio

Green apple, lemon zest and refreshing acidity Alcohol: 12.5%

Price (£)
QTY

Italian Pinot Grigio

Green apple, lemon zest and refreshing acidity Alcohol: 12.5%

£79.95

Add to Basket
Add to Basket

---

French Vieux Chateau du Roi

Raspberry, white pepper and licorice Alcohol: 13%

Price (£)
QTY

French Vieux Chateau du Roi

Raspberry, white pepper and licorice Alcohol: 13%

£79.95

Add to Basket
Add to Basket

---

Italian Amarone

Black Plum, white pepper, toasted cedar and powerful tannins Alcohol: 13.5%

Price (£)
QTY

Italian Amarone

Black Plum, white pepper, toasted cedar and powerful tannins Alcohol: 13.5%

£79.95

Add to Basket
Add to Basket

---

California Cabernet Merlot

Ripe cherry, plum, chocolate and supple tannins make this a winner. Alcohol: 13%

Price (£)
QTY

California Cabernet Merlot

Ripe cherry, plum, chocolate and supple tannins make this a winner. Alcohol: 13%

£79.95

Add to Basket
Add to Basket

---

Australian Cabernet Sauvignon

Black Plum, white pepper, toasted cedar and powerful tannins Alcohol: 13.5%

Price (£)
QTY

Australian Cabernet Sauvignon

Black Plum, white pepper, toasted cedar and powerful tannins Alcohol: 13.5%

£79.95

Add to Basket
Add to Basket

---

Chilean Carmenere

Raspberry, plum and vanilla make this bold wine a winner. Alcohol: 13.5%

Price (£)
QTY

Chilean Carmenere

Raspberry, plum and vanilla make this bold wine a winner. Alcohol: 13.5%

£79.95

Add to Basket
Add to Basket

---

Italian Luna Rossa

A real intense red. Ripe black cherry, blackberry and plum with toasty oak Alcohol: 13.5%

Price (£)
QTY

Italian Luna Rossa

A real intense red. Ripe black cherry, blackberry and plum with toasty oak Alcohol: 13.5%

£79.95

Add to Basket
Add to Basket

---

Argentine Malbec

Blackberry, clove and smoke with bold tannins Alcohol: 13.5%

Price (£)
QTY

Argentine Malbec

Blackberry, clove and smoke with bold tannins Alcohol: 13.5%

£79.95

Add to Basket
Add to Basket

---

California Merlot

Chocolate, black cherry and vanilla spice make this Merlot soft and velvety. Alcohol: 13%

Price (£)
QTY

California Merlot

Chocolate, black cherry and vanilla spice make this Merlot soft and velvety. Alcohol: 13%

£79.95

Add to Basket
Add to Basket

---

Chilean Pinot Noir

Black raspberry, red cherry and earthy nuance, a true Pinot Noir. Alcohol: 13%

Price (£)
QTY

Chilean Pinot Noir

Black raspberry, red cherry and earthy nuance, a true Pinot Noir. Alcohol: 13%

£79.95

Add to Basket
Add to Basket

---

Australia Shiraz

Blackberry, sweet spice and leather Alcohol: 13.5%

Price (£)
QTY

Australia Shiraz

Blackberry, sweet spice and leather Alcohol: 13.5%

£79.95

Add to Basket
Add to Basket

---

Australia Grenache Rosé

Strawberry, raspberry with crisp acidity - this rosé is simply gorgeous. Alcohol: 12%

Price (£)
QTY

Australia Grenache Rosé

Strawberry, raspberry with crisp acidity - this rosé is simply gorgeous. Alcohol: 12%

£74.95

£79.95

Add to Basket
Add to Basket

---

Italian Montepulciano

Cherry, boysenberry, dark plum, spice, and fresh acidity. Alcohol: 13.5%

Price (£)
QTY

Italian Montepulciano

Cherry, boysenberry, dark plum, spice, and fresh acidity. Alcohol: 13.5%

£79.95

Add to Basket
Add to Basket

---

Washington Sangiovese Rosé

Enjoy bright flavours of wild strawberry, raspberry and cherry accented with subtle mineral and citrus notes and soft juicy peach undertones. Crisp, fresh, and off-dry. Serve chilled for the perfect summer sipping sensation. Alcohol: 12% abv

Price (£)
QTY

Washington Sangiovese Rosé

Enjoy bright flavours of wild strawberry, raspberry and cherry accented with subtle mineral and citrus notes and soft juicy peach undertones. Crisp, fresh, and off-dry. Serve chilled for the perfect summer sipping sensation. Alcohol: 12% abv

£79.95

Add to Basket
Add to Basket

---

Australia Cabernet Shiraz

Blackberry, dark chocolate, licorice and smoke Alcohol: 13.5%

Price (£)
QTY

Australia Cabernet Shiraz

Blackberry, dark chocolate, licorice and smoke Alcohol: 13.5%

£69.95

£79.95

Add to Basket
Add to Basket

---