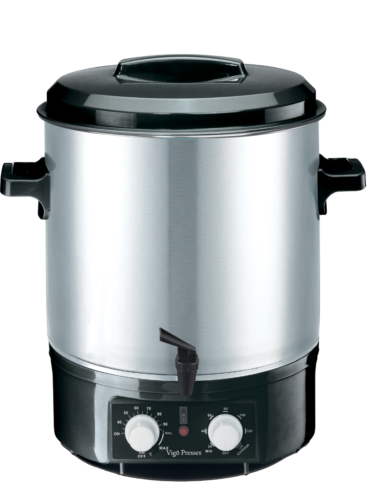 Vigo Pasteuriser
---
A 27 litre capacity stainless steel pasteuriser with fully adjustable timer and temperature controls. Includes a plastic grid to sit bottles on and handy dispensing tap.



Powerful 1800W heater ensure the unit will reach operating temperature quickly and maintain it with ease.
Fully adjustable timer and temperature dials. Please note you'll need to set the temperature you want, wait for the unit to beep and then set the timer, as this indicates it has reached the required temperature.
Essential if you're looking to store your juice order cider. Juice can be kept for around 2 days before it begins to ferment; but when pasteurised it can be kept for up to 2 years.
Holds up to 13 x 750ml bottles, 2 x 5 litre bags, 1 x 10 litre bag or 14 x 1 litre preserving jars.
Can also function as a brewing kettle for making beer, for mulling wine and for storing and dispensing hot liquids at functions.

Description
Price (£)
QTY

Vigo Pasteuriser

A 27 litre capacity stainless steel pasteuriser with fully adjustable timer and temperature controls. Includes a plastic grid to sit bottles on and handy dispensing tap.

£182.00

Add to Basket
Add to Basket

---