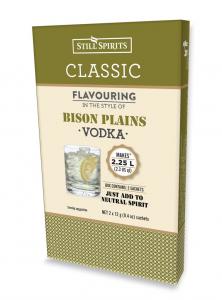 Still Spirits Classic Spirit Essences
---
Still Spirits range of Classic essences are the worlds best and are supplied in sachets within beautifully presented sleeves.
Each sachet contains the essential oils required to emulate some of the finest spirits available in the world.
Classic essences have just gone through a change in pack size from the l litre sachet to a 2.25 litre pack (made of 2 joined sachets each making 1.125 litres). This again is being changed and we will start to see cardboard packs containing 2 sachets each flavouring 1.125 litres.
Description
Price (£)
QTY

American Bourbon

Superior smooth, rich bourbon, ideal straight or over ice.

Price (£)
QTY

American Bourbon

Superior smooth, rich bourbon, ideal straight or over ice.

£4.95

Add to Basket
Add to Basket

---

Blue Jewel Gin

An exceptionally smooth gin with abundant citrus aroma. The essence fills the mouth with complex aromatic spices and finishes with just a touch of sweetness.

Price (£)
QTY

Blue Jewel Gin

An exceptionally smooth gin with abundant citrus aroma. The essence fills the mouth with complex aromatic spices and finishes with just a touch of sweetness.

£4.95

Add to Basket
Add to Basket

---

Brandy

A mellow, well aged style brandy. A subtle blend of grape and fruit flavours gives this connoisseurs brandy a distinctive place in any liquor cabinet. Serve in a tall glass with ginger ale or appreciate neat in a balloon glass.

Price (£)
QTY

Brandy

A mellow, well aged style brandy. A subtle blend of grape and fruit flavours gives this connoisseurs brandy a distinctive place in any liquor cabinet. Serve in a tall glass with ginger ale or appreciate neat in a balloon glass.

£4.95

Add to Basket
Add to Basket

---

Calypso Dark Rum

This is gorgeous! Rich dark molasses rum much enjoyed in the Caribbean.

Price (£)
QTY

Calypso Dark Rum

This is gorgeous! Rich dark molasses rum much enjoyed in the Caribbean.

£4.95

Add to Basket
Add to Basket

---

Finest Reserve Whisky

A unique premium whiskey blend with outstanding flavour aroma and a unique smoky peat quality.

Price (£)
QTY

Finest Reserve Whisky

A unique premium whiskey blend with outstanding flavour aroma and a unique smoky peat quality.

£4.95

Add to Basket
Add to Basket

---

Gin

A distinctive refreshing gin of outstanding character. This very concentrated essence produces a clean tasting gin with strong juniper flavour and a delicate touch of coriander. This clean smelling gin is best enjoyed with tonic in a tall glass.

Price (£)
QTY

Gin

A distinctive refreshing gin of outstanding character. This very concentrated essence produces a clean tasting gin with strong juniper flavour and a delicate touch of coriander. This clean smelling gin is best enjoyed with tonic in a tall glass.

£4.95

Add to Basket
Add to Basket

---

Irish Whiskey

A fine triple distilled whiskey. This Irish gem has smooth malty flavour, coupled with notes of lemon, charred wood and sweet spice. Best enjoyed neat or with a splash of water.

Price (£)
QTY

Irish Whiskey

A fine triple distilled whiskey. This Irish gem has smooth malty flavour, coupled with notes of lemon, charred wood and sweet spice. Best enjoyed neat or with a splash of water.

£4.95

Add to Basket
Add to Basket

---

Jamaican Dark Rum

This Caribbean favourite is smooth, mellow and full of flavour.

Price (£)
QTY

Jamaican Dark Rum

This Caribbean favourite is smooth, mellow and full of flavour.

£4.95

Add to Basket
Add to Basket

---

London Gin

Perfect flavour for customers who like Tanqueray Gin

Price (£)
QTY

London Gin

Perfect flavour for customers who like Tanqueray Gin

£4.95

Add to Basket
Add to Basket

---

Navy Dark Rum

Dark, sweet mellow rum styled on seafaring rums of old.

Price (£)
QTY

Navy Dark Rum

Dark, sweet mellow rum styled on seafaring rums of old.

£4.95

Add to Basket
Add to Basket

---

Queensland Gold Rum

This is know called Australian Gold Rum. This Australian favourite has subtle tones of liquorice, golden syrup and molasses.

Price (£)
QTY

Queensland Gold Rum

This is know called Australian Gold Rum. This Australian favourite has subtle tones of liquorice, golden syrup and molasses.

£4.95

Add to Basket
Add to Basket

---

Single Malt Whisky

This quintessential example of speyside single malt style essence gives light fruit notes and a smooth golden colour.

Price (£)
QTY

Single Malt Whisky

This quintessential example of speyside single malt style essence gives light fruit notes and a smooth golden colour.

£5.60

Add to Basket
Add to Basket

---

Spiced Gold Rum

Smooth creamy textured honey coloured rum combined with a heavenly blend of spices and notes of vanila, nutmeg and cinnamon. A very popular one!

Price (£)
QTY

Spiced Gold Rum

Smooth creamy textured honey coloured rum combined with a heavenly blend of spices and notes of vanila, nutmeg and cinnamon. A very popular one!

£4.95

Add to Basket
Add to Basket

---

Tennessee Bourbon

Full flavoured sour mash whiskey, mellow and smooth yet stacked with distinctive aromas. Great if you know Jack!

Price (£)
QTY

Tennessee Bourbon

Full flavoured sour mash whiskey, mellow and smooth yet stacked with distinctive aromas. Great if you know Jack!

£4.95

Add to Basket
Add to Basket

---

VSOP

For the brandy connoisseur, super smooth with subtle fragrances and delicate colour.

Price (£)
QTY

VSOP

For the brandy connoisseur, super smooth with subtle fragrances and delicate colour.

£4.95

Add to Basket
Add to Basket

---

Whisky

A rich, golden blended whisky style. As you sip this full flavoured whisky you can almost hear the sounds of bagpipes and smell the peat fires burning. Best enjoyed neat or with a splash of water.

Price (£)
QTY

Whisky

A rich, golden blended whisky style. As you sip this full flavoured whisky you can almost hear the sounds of bagpipes and smell the peat fires burning. Best enjoyed neat or with a splash of water.

£4.95

Add to Basket
Add to Basket

---

White Rum

A smooth light-bodied rum, lightly sweet in flavour with subtle tones of molasses. This distinctive rum is often known as "silver rum". Great over ice, but most often enjoyed flavoured with lime, lemon or tropical fruits.

Price (£)
QTY

White Rum

A smooth light-bodied rum, lightly sweet in flavour with subtle tones of molasses. This distinctive rum is often known as "silver rum". Great over ice, but most often enjoyed flavoured with lime, lemon or tropical fruits.

£4.95

Add to Basket
Add to Basket

---

ikon Coconut Rum

Mouth watering combination of Caribbean white rum and fresh coconut. Just add alcohol and water and shake. This essence makes 750ml.

Price (£)
QTY

ikon Coconut Rum

Mouth watering combination of Caribbean white rum and fresh coconut. Just add alcohol and water and shake. This essence makes 750ml.

£2.99

Add to Basket
Add to Basket

---

Bison Plains Vodka

Makes a Bison Grass style Vodka flavour, with woodruff, vanilla and coconut notes finished with the taste of roasted almonds.

Price (£)
QTY

Bison Plains Vodka

Makes a Bison Grass style Vodka flavour, with woodruff, vanilla and coconut notes finished with the taste of roasted almonds.

£4.95

Add to Basket
Add to Basket

---