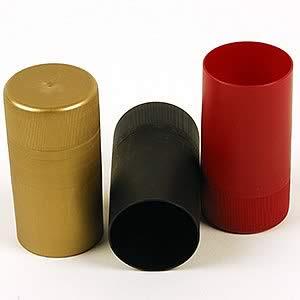 Novatwist wine bottle screw-caps
---
Novatwist caps are designed to make sealing screw-top wine bottles so easy and safe. Whether it is commercial or home made wine.these caps will keep the wine fresh and secure in the bottle without the need for any tools or corkers. The bottles can be stood upright or laid on their sides.

They are so easy to fit. Simply press down onto the bottle until you hear a click, then tighten to seal. If you are re-using screw cap wine bottles first take of the security tag ring from the neck of the bottle. These caps won't work otherwise. The bottles need to have a 30mm o/d screw with at least 2 rows of pitch to the thread. The cap incorprates a tamper-evident shroud which breaks easily when the bottle is opened.

We currently have a large choice of 9 attractive colours so you will be able to colour code your wines in the rack.
You are now able to order by exact numbers required so you can choose any mix of colours you like.
Description
Price (£)
QTY

Burgundy Red

A Burgundy red Novatwist cap

Price (£)
QTY

Burgundy Red

A Burgundy red Novatwist cap

£0.18

Add to Basket
Add to Basket

---

Silver

A Silver Novatwist cap

Price (£)
QTY

Silver

A Silver Novatwist cap

£0.18

Add to Basket
Add to Basket

---

Green

A Green Novatwist cap

Price (£)
QTY

Green

A Green Novatwist cap

£0.18

Add to Basket
Add to Basket

---

Ivory

An Ivory Novatwist cap

Price (£)
QTY

Ivory

An Ivory Novatwist cap

£0.18

Add to Basket
Add to Basket

---

Black

A Black Novatwist cap

Price (£)
QTY

Black

A Black Novatwist cap

£0.18

Add to Basket
Add to Basket

---

Pack of 100 Novatwist caps.

Pack of 100 Novatwist caps. This pack can be any colour or mix of colours. Remember to let us know what exactly you would like.

Price (£)
QTY

Pack of 100 Novatwist caps.

Pack of 100 Novatwist caps. This pack can be any colour or mix of colours. Remember to let us know what exactly you would like.

£16.20

Add to Basket
Add to Basket

---