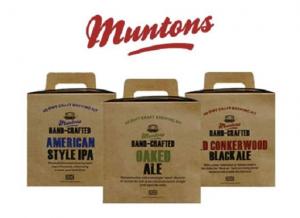 Hand Crafted Range.
---
Muntons Hand Crafted Range, previously called Premium Gold, are some of the finest beer kits you can buy. That's because to make them Muntons have used authentic quality brewing ingredients.
They begin by carefully selecting and malting the best English 2-row barley. Great care is taken when making the extract to ensure all the flavour and character are retained.
To this they add a unique blend of brewing hops supplied by England's most renowned hop growers. To guarantee consistent brewing these kits contain Munton's very own Gold yeast - a brewers grade yeast with superior ale making characteristics and good "crusting" properties to brew crystal clear beer.
By following the simple instructions you will produce beers which are perfectly balanced with just the right amount of maltiness, bitterness and aroma - beers which capture the quintessential English pub pint.

Description
Price (£)
QTY

Smugglers Special Premium Ale.

This light malty beer has a wonderful balance achieved with choice aromatic and bittering hops and the use of finest English 2-row premium ale malt.

Price (£)
QTY

Smugglers Special Premium Ale.

This light malty beer has a wonderful balance achieved with choice aromatic and bittering hops and the use of finest English 2-row premium ale malt.

£23.95

Add to Basket
Add to Basket

---

Oaked Ale

Rich and mellow with a wondeful 'oaked' character to recreate the taste of ales stored and served from aged oak casks.

Price (£)
QTY

Oaked Ale

Rich and mellow with a wondeful 'oaked' character to recreate the taste of ales stored and served from aged oak casks.

£23.95

Add to Basket
Add to Basket

---

Midas Touch Golden Ale.

This is a refreshing light pale ale with a rich golden colour and a distinctive hoppy taste. A gentle invitation for lager drinkers to enter the flavoursome world of English style bitter.

Price (£)
QTY

Midas Touch Golden Ale.

This is a refreshing light pale ale with a rich golden colour and a distinctive hoppy taste. A gentle invitation for lager drinkers to enter the flavoursome world of English style bitter.

£23.95

Add to Basket
Add to Basket

---

American Style IPA

Wonderful floral and citrus hop notes sing on the palate, balanced by a warm, sweet malt finish.

Price (£)
QTY

American Style IPA

Wonderful floral and citrus hop notes sing on the palate, balanced by a warm, sweet malt finish.

£23.95

Add to Basket
Add to Basket

---

Belguim Style

A strong, vibrant ale, double fermented using a true Belgian 'Saison' yeast to really develop the intense notes.

Price (£)
QTY

Belguim Style

A strong, vibrant ale, double fermented using a true Belgian 'Saison' yeast to really develop the intense notes.

£23.95

Add to Basket
Add to Basket

---

Old Conkerwood Black Ale

With a colour reminiscent of Autumn Conkers, this distinctive 'black ale' has a rich malty flavour balanced with a subtle dry bitterness.

Price (£)
QTY

Old Conkerwood Black Ale

With a colour reminiscent of Autumn Conkers, this distinctive 'black ale' has a rich malty flavour balanced with a subtle dry bitterness.

£23.95

Add to Basket
Add to Basket

---