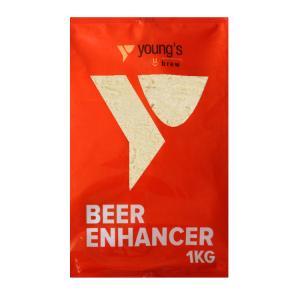 Muntons/Youngs Beer Kit Enhancer.
---
As its name suggests, this product is designed to enhance your sugar-required beer kit.
Contains 500g spray-dried malt extract (medium) and 500g dextrose.
Use it instead of the sugar and you will find it gives the beer kit more body, improved flavour and better head formation and retention.

Description
Price (£)
QTY

Beer Kit Enhancer

1kg Pack. As its name suggests, this product is designed to enhance your sugar-required beer kit. Contains 500g spray-dried malt extract and 500g dextrose. Use it instead of the sugar and your will find it gives the beer kit more body, improved flavour and better head formation and retention.

Price (£)
QTY

Beer Kit Enhancer

1kg Pack. As its name suggests, this product is designed to enhance your sugar-required beer kit. Contains 500g spray-dried malt extract and 500g dextrose. Use it instead of the sugar and your will find it gives the beer kit more body, improved flavour and better head formation and retention.

£3.95

Add to Basket
Add to Basket

---

Pack of 10 Beer Kit Enhancer

This is a bargain pack of 10 x 1kg packs of Beer Kit Enhancer.

Price (£)
QTY

Pack of 10 Beer Kit Enhancer

This is a bargain pack of 10 x 1kg packs of Beer Kit Enhancer.

£38.00

Add to Basket
Add to Basket

---