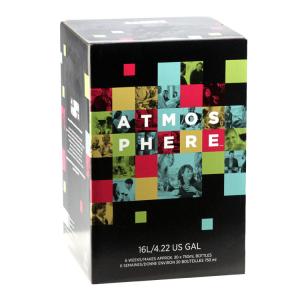 Kenridge Atmosphere Series.
---
Kenridge Atmoshere series features wines of extraordinary elegance and sophistication from the most celebrated and acclaimed wine-producing countries around the world. Each ultra-premium kit will create a wine that is distinctive, showcasing unique characteristics produced by the specific terroir and climatic conditions of the country of origin.
Kenridge Atmosphere world renowned varietals and superior blends can be served proudly to family and friends and will stimulate the palates of the most discerning wine connoisseurs.
These are six week kits and contain 16 litres of grape juice and concentrated grape juice and will produce 30 bottles of wine.

Description
Price (£)
QTY

Australia Whiskey Barrel Shiraz - Limited edition

This is a limited edition run and sounds delicious - so don't miss out order now! Ripe dark fruit and juicy berries are complimented by vanilla, subtle smokiness and herbal notes from the genuine unpeated Whisky oak. Expect bold, full bodied, with firm tannins and a smooth finish. Alcohol: 13% Oak: Yes.. Sweetness: 0. Body: Full

Price (£)
QTY

Australia Whiskey Barrel Shiraz - Limited edition

This is a limited edition run and sounds delicious - so don't miss out order now! Ripe dark fruit and juicy berries are complimented by vanilla, subtle smokiness and herbal notes from the genuine unpeated Whisky oak. Expect bold, full bodied, with firm tannins and a smooth finish. Alcohol: 13% Oak: Yes.. Sweetness: 0. Body: Full

£82.95

Add to Basket
Add to Basket

---

Australian Cabernet Sauvignon

Blackcurrant, light oak & spicy aromas. Rich with bold, juicy black fruit, vanilla oak, & subtle cedar notes. Alcohol: 13.5%. Oak: Yes. Sweetness: 0. Body: Full

Price (£)
QTY

Australian Cabernet Sauvignon

Blackcurrant, light oak & spicy aromas. Rich with bold, juicy black fruit, vanilla oak, & subtle cedar notes. Alcohol: 13.5%. Oak: Yes. Sweetness: 0. Body: Full

£79.95

Add to Basket
Add to Basket

---

Australian Cabernet Shiraz Merlot

A vibrant blend of rich black fruit, raspberry, & plum; subtle mocha, spice, oak, & velvety tannins. Alcohol: 13.5% Oak: Yes. Sweetness: 0. Body: Full

Price (£)
QTY

Australian Cabernet Shiraz Merlot

A vibrant blend of rich black fruit, raspberry, & plum; subtle mocha, spice, oak, & velvety tannins. Alcohol: 13.5% Oak: Yes. Sweetness: 0. Body: Full

£79.95

Add to Basket
Add to Basket

---

Australian Chardonnay

A creamy palate of tropical fruits, fresh green apple & subtle pear combined with butterscotch & vanilla notes. Alcohol: 13.5%. Oak: Yes. Sweetness: 0. Body: Full.

Price (£)
QTY

Australian Chardonnay

A creamy palate of tropical fruits, fresh green apple & subtle pear combined with butterscotch & vanilla notes. Alcohol: 13.5%. Oak: Yes. Sweetness: 0. Body: Full.

£79.95

Add to Basket
Add to Basket

---

Australian Shiraz

Ripe black and red berry aromas with peppery spice. Intense juicy dark fruit flavours enhanced with spicy oak. Alcohol: 13.5% Oak: Yes. Sweetness: 0 Body: Full

Price (£)
QTY

Australian Shiraz

Ripe black and red berry aromas with peppery spice. Intense juicy dark fruit flavours enhanced with spicy oak. Alcohol: 13.5% Oak: Yes. Sweetness: 0 Body: Full

£79.95

Add to Basket
Add to Basket

---

Californain Riesling

Fresh citrus & apple aromas & flavours, with subtle mineral & apricot notes, & ample acidity. Alcohol: 12.5% Oak: No. Sweetness: 2. Body: Medium.

Price (£)
QTY

Californain Riesling

Fresh citrus & apple aromas & flavours, with subtle mineral & apricot notes, & ample acidity. Alcohol: 12.5% Oak: No. Sweetness: 2. Body: Medium.

£79.95

Add to Basket
Add to Basket

---

Californian Viognier

Luscious aromas of ripe melon, honeysuckle, & citrus notes, with touches of juicy peach & apricot on the palate. Alcohol: 13% Oak: No. Sweetness: 2 Body: Medium.

Price (£)
QTY

Californian Viognier

Luscious aromas of ripe melon, honeysuckle, & citrus notes, with touches of juicy peach & apricot on the palate. Alcohol: 13% Oak: No. Sweetness: 2 Body: Medium.

£79.95

Add to Basket
Add to Basket

---

Chilean Cabernet Malbec Carmenere

Rich & dark, black fruits, spice, & smooth plum; a perfect blend of flavour, texture, & structure. Alcohol: 13.5% Oak: Yes. Sweetness: 0 Body: Full

Price (£)
QTY

Chilean Cabernet Malbec Carmenere

Rich & dark, black fruits, spice, & smooth plum; a perfect blend of flavour, texture, & structure. Alcohol: 13.5% Oak: Yes. Sweetness: 0 Body: Full

£79.95

Add to Basket
Add to Basket

---

French Cabernet Sauvignon

Cherry & black fruit aromas with solid flavours of blackcurrant & plum, rich vanilla oak & firm tannins. Alcohol: 13% Oak: Yes. Sweetness: 0 Body: Medium

Price (£)
QTY

French Cabernet Sauvignon

Cherry & black fruit aromas with solid flavours of blackcurrant & plum, rich vanilla oak & firm tannins. Alcohol: 13% Oak: Yes. Sweetness: 0 Body: Medium

£79.95

Add to Basket
Add to Basket

---

French Merlot

Plum & red currant aromas with soft plum, & cherry flavours, a touch of vanilla & light spice on the finish. Alcohol: 13% Oak: Yes. Sweetness 0. Body: Medium.

Price (£)
QTY

French Merlot

Plum & red currant aromas with soft plum, & cherry flavours, a touch of vanilla & light spice on the finish. Alcohol: 13% Oak: Yes. Sweetness 0. Body: Medium.

£79.95

Add to Basket
Add to Basket

---

German Gewurtztraminer

Richly flavoured with lychee, white peach, & subtle candied ginger, accented by floral & spicy aromas. Alcohol: 11.5%. Oak: No. Sweetness: 2. Body: Light

Price (£)
QTY

German Gewurtztraminer

Richly flavoured with lychee, white peach, & subtle candied ginger, accented by floral & spicy aromas. Alcohol: 11.5%. Oak: No. Sweetness: 2. Body: Light

£79.95

Add to Basket
Add to Basket

---

Italian Amarone

Dried fruit & sweet spice, with bold flavours of dried berries, hints of anise & spice. Alcohol: 14% Oak: Yes. Sweetness: 0 Body: Full

Price (£)
QTY

Italian Amarone

Dried fruit & sweet spice, with bold flavours of dried berries, hints of anise & spice. Alcohol: 14% Oak: Yes. Sweetness: 0 Body: Full

£79.95

Add to Basket
Add to Basket

---

Italian Nebbiolo

Alcohol: 14% Oak: Yes. Sweetness: 0 Body: Full A lively, complex palate of red cherry, strawberry,& licorice, with fleshy tannins, & a long finish. Alcohol: 14% Oak: yes. Sweetness: 0. Body: Full.

Price (£)
QTY

Italian Nebbiolo

Alcohol: 14% Oak: Yes. Sweetness: 0 Body: Full A lively, complex palate of red cherry, strawberry,& licorice, with fleshy tannins, & a long finish. Alcohol: 14% Oak: yes. Sweetness: 0. Body: Full.

£79.95

Add to Basket
Add to Basket

---

Italian Pinot Grigio

Crisp & fresh with delicate floral aromas; green apple on the palate, with subtle mineral, citrus & tropical fruit flavours. Alcohol: 12.5% Oak: No. Sweetness 0. Body: Full

Price (£)
QTY

Italian Pinot Grigio

Crisp & fresh with delicate floral aromas; green apple on the palate, with subtle mineral, citrus & tropical fruit flavours. Alcohol: 12.5% Oak: No. Sweetness 0. Body: Full

£79.95

Add to Basket
Add to Basket

---

Italian Sangiovese

Cherry, cranberry, & subtle earth aromas; cherry, red currant, raspberry flavours, velvety texture & a hint of cocoa. Alcohol: 14%. Oak: Yes. Sweetness: 0 Body: Full

Price (£)
QTY

Italian Sangiovese

Cherry, cranberry, & subtle earth aromas; cherry, red currant, raspberry flavours, velvety texture & a hint of cocoa. Alcohol: 14%. Oak: Yes. Sweetness: 0 Body: Full

£79.95

Add to Basket
Add to Basket

---

New Zealand Pinot Noir

Cherry aromas with soft earthy notes. Raspberry & cherry flavours with light oaky spice. Alcohol: 13% Oak: Yes. Sweetness: 0. Body: Medium.

Price (£)
QTY

New Zealand Pinot Noir

Cherry aromas with soft earthy notes. Raspberry & cherry flavours with light oaky spice. Alcohol: 13% Oak: Yes. Sweetness: 0. Body: Medium.

£79.95

Add to Basket
Add to Basket

---

New Zealand Sauvignon Blanc

Classic aromas & flavours of gooseberry, grass, passion fruit, & white peach, with a crisp, elegant finish. Alcohol: 13% Oak: No.. Sweetness: 0. Body: Light.

Price (£)
QTY

New Zealand Sauvignon Blanc

Classic aromas & flavours of gooseberry, grass, passion fruit, & white peach, with a crisp, elegant finish. Alcohol: 13% Oak: No.. Sweetness: 0. Body: Light.

£79.95

Add to Basket
Add to Basket

---