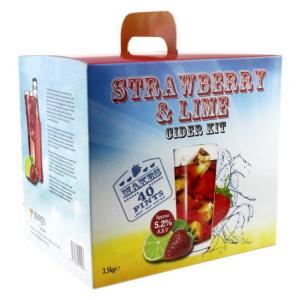 Youngs Fruit Cider kits
---
Traditional apple cider has always been viewed as the perfect accompaniment to a hot summers day, however the cider market has seen somewhat of a renaissance over the past few years since seeing the emergence of fruit ciders, ultimately going on and helping to establish cider as a drink that can be enjoyed all year round in a variety of fruity and interesting flavours.
With years of experience and state of the art facilities Young's have worked to develop a range of fantastic fruit ciders making use of only the finest apple and fruit concentrates available, a range uncompromising on quality for your enjoyment.
The blended fruit concentrates are preserved to ensure that all the delicate natural fruit flavours and aromas give you the ability to make the freshest and greatest tasdting fruit cider available from a kit, all in the comfort of your own home.
Description
Price (£)
QTY

Strawberry and Lime

Smooth, fruity and sweet - this cider is deliciously drinkable. It is made even more delightful by ending with a tangy citrus burst which balances out the flavours in perfect harmony and adds wonderful sharpness to the drink..

Price (£)
QTY

Strawberry and Lime

Smooth, fruity and sweet - this cider is deliciously drinkable. It is made even more delightful by ending with a tangy citrus burst which balances out the flavours in perfect harmony and adds wonderful sharpness to the drink..

£22.95

Add to Basket
Add to Basket

---

Peach and Passion Fruit.

Good level of sweet versus dry, the sweet peach is lifted on your palate by a tangy passion fruit finish, with the two flavours complimenting each other well in this winning combination.

Price (£)
QTY

Peach and Passion Fruit.

Good level of sweet versus dry, the sweet peach is lifted on your palate by a tangy passion fruit finish, with the two flavours complimenting each other well in this winning combination.

£22.95

Add to Basket
Add to Basket

---

Raspberry and Mango

Smooth on the palate, medium sweet this Cider is refreshing and crisp. Fruity and jammy, its complimented deliciously by the sweet mango.

Price (£)
QTY

Raspberry and Mango

Smooth on the palate, medium sweet this Cider is refreshing and crisp. Fruity and jammy, its complimented deliciously by the sweet mango.

£22.95

Add to Basket
Add to Basket

---