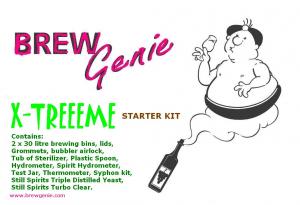 BrewGenie Xtreeeme Starter
---
This Starter Kit is to go with the BrewGenie Vodka Machine and provides everything (except sugar) you need to produce 24 litres of wash to put through the machine to give you 7.2 litres of 40% Vodka.
The starter kit includes:
2 30 litre brewing buckets with lids, gommets and bubbler airlock.
Tub of steriliser.
Large plastic mixing spoon.
Specific gravity hydrometer, spirit hydrometer, trial jar and thermometer.
Syphon kit.
Still Spirits Triple Distilled Yeast and Still Spirits Turbo Clear.

(If not used with machine to produce Vodka this will produce arond 15% abv alcohol which can then be added to wines, ciders or essences).


Description
Price (£)
QTY

X-treeeme Starter

This Starter Kit provides everything (except sugar) you need to produce 24 litres of wash to put through the machine to give you 7.2 litres of 40% Vodka. The starter kit includes: 2 30 litre brewing buckets with lids, gommets and bubbler airlock. Tub of steriliser. Large plastic mixing spoon. Specific gravity hydrometer, spirit hydrometer, trial jar and thermometer. Syphon kit. Still Spirits Triple Distilled Yeast and Still Spirits Turbo Clear. (If not used with machine to produce Vodka this will produce arond 15% abv alcohol which can then be added to wines, ciders or essences).

Price (£)
QTY

X-treeeme Starter

This Starter Kit provides everything (except sugar) you need to produce 24 litres of wash to put through the machine to give you 7.2 litres of 40% Vodka. The starter kit includes: 2 30 litre brewing buckets with lids, gommets and bubbler airlock. Tub of steriliser. Large plastic mixing spoon. Specific gravity hydrometer, spirit hydrometer, trial jar and thermometer. Syphon kit. Still Spirits Triple Distilled Yeast and Still Spirits Turbo Clear. (If not used with machine to produce Vodka this will produce arond 15% abv alcohol which can then be added to wines, ciders or essences).

£50.00

Add to Basket
Add to Basket

---